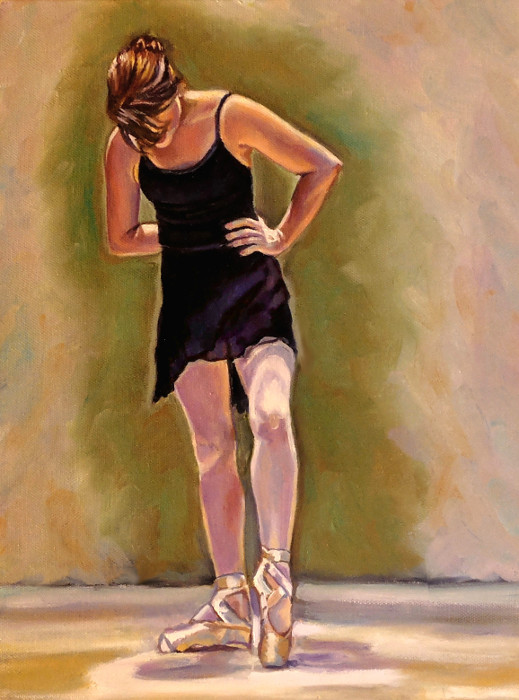 Oil painting of a ballet dancer alone in a studio wearing informal dance attire. I was drawn to the energy in her elegant pose as well as her being drenched in light, but most of all, with the at-one-ness and total focus of her physical expression. I have loved dance and the art of dance ever since I was a very young child, taking ballet lessons in a class of other hopelessly awkward little girls, who also had dreams of being on the stage someday. I was influenced and inspired at that young age by the work of Edgar Degas, and the three ballerina prints that hung on the walls of my bedroom.
Kind permission was given for use of this photo reference, by Lynne A. on Pixabay.
"Balance" received an honorable mention award in Cape Cod Art Association's Easel Art – Summer 2016.
~ THIS PAINTING HAS SOLD ~
Oil on canvas ~ 18″ x 24″ © ArtistKarin Press Cohen – 2016
If you would like to have a painting done of this ballet dancer, I can create another one very similar to it, in various sizes. With all hand-done artwork, there will of course, be some small differences…no two paintings will ever be exactly alike. Please contact me using the form below.
Contact Me: