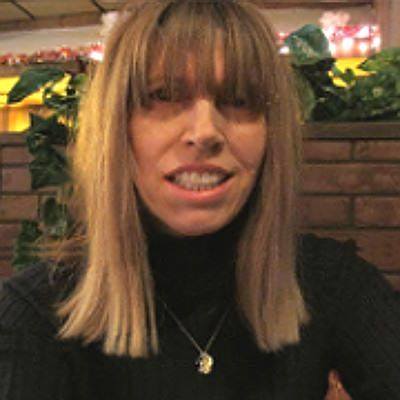 Karin Cohen Bio
Despite having a strong interest in art when I was young, I did not pursue a career in art until I was in my late 20's…when I had the opportunity to have my acrylic paintings & painted furniture, available for sale in what was my then husband's family business; Homestead Antiques.
Their shop, located on Cape Cod in Brewster, MA from 1985 until 1998; was owned by Myron Cohen & his wife Bernice, and operated by Myron & his son David. I decided to try oil painting after seeing some examples of antique marine oil paintings that were hanging in the shop, and I began to try to replicate the style of schooners and frigates, using my own interpretation. When I was satisfied with the results, I began offering them for sale as reproductions, in the antique shop as well as at auction houses on Cape Cod, and the two islands off the coast…Nantucket & Martha's Vineyard,
Once I acquired the basics, oil painting quickly became my favorite medium. I loved the freedom they allowed me, with their much longer drying time, and the ability to mix colors much better than with acrylic paints. After painting a large number of renderings of these 19th-Century Sailing Vessels, I decided that I wanted to try doing oil portraits. I wanted to 're-create' moments in time that other people, as well as myself; have 'captured' on film and admired enough to want to have re-created in a different medium other than photography. I found that the process of using oil paints allowed me to use my own form of expression…with no time limits.
After doing several portraits of family members, and some paintings of children using photographs I had taken with their parents' permission…I was encouraged by people I knew to try to submit some of my work to a gallery on the Cape. I had participated in two workshops at the Cape Cod Art Association, located in Barnstable, MA…a portrait workshop as well as one in still life. Afterward, I became a juried member when I submitted several examples of my work and I was accepted. (Being 'juried' is the process by which an artist bring their work to a gallery for consideration, in order to be able to show it in their gallery, cooperative, association, or guild. The work is critiqued or 'juried' by other member artists of the organization, & either accepted or declined).
What I love about doing portraits, I think is most related to having the opportunity to create something that represents to someone else, the essence of what a photo means to them. To reproduce renderings of family, friends, 4-legged 'companions', or a special home; is to me a privilege…an opportunity to be trusted with honoring a memory.
My technique is a combination of realistic and impressionist, with a focus on 'drawing out' colors, textures, and form…to enhance the natural beauty of a subject. Many of my paintings have a 3-dimensional quality, which I have been told is a noticeable element of my work.
My Art Backstory
As a child I would often hear my mother telling other people about how I had such a strong interest in drawing & painting.
"At four years old" she would say, "Karin was drawing people with eyelashes and fingernails." I guess it's not surprising that I am now involved with art professionally, since I was truly surrounded by artists during my entire young life.
My mother painted with oils ever since I can remember… she continues to paint today, using watercolors as her chosen medium. My aunt; her sister, lived with us for several months while I was very young; while she was attending the Massachusetts College of Art. Our apartment in Brookline, (near Boston, Massachusetts); was never void of art projects.
My father, Myron Press; was involved in different aspect of the arts; having a master's degree in teaching, he was a Professor of Music at several well-known educational institutions in the Boston area; including Northeastern and Boston Universities, Emmanuel College & the Longy School of Music. As a highly-respected & sought after accompanist to many well-respected local Boston classical musicians and vocalists, he also joined with other well-respected classical musicians to form several chamber music trios and quartets. As a child, I was privileged to attend many of his concerts, some of which were performed at the Isabella Stewart Gardner Museum.
In addition to being a regular performer with the Melrose Symphony Orchestra and a guest performer of the Boston Symphony and Boston Pops orchestras, he gave many solo performances. Sadly, diabetes which he had developed in childhood, robbed him of his sight, and tragically, at age 45, while he was working on his doctorate of music; he passed away from complications. To me, the illness seemed especially unfair, since prior to that, he was considered to be the best sight-reader [of classical music]; in the Boston area…having the ability to look at a piece of music that he had never seen before, and minutes later sit down at the piano and play it as if he had done so many times.
I feel very strongly that he had a major impact on my life…and ultimately, my choice to pursue a career in art.*
*Contributing author Robert Press. (Artist's brother)