Web Design Artist : What Makes A Good Web Designer vs. Developer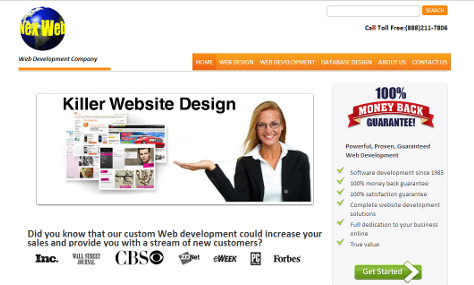 Click On Image To Visit Web Development Website
In today's competitive market, trying to figure out what makes a good web designer vs. developer is not necessarily that easy…
Especially if you don't understand the differences between what a web designer does & what is involved in doing  web development.
In my quest to discover whether the internet was a venue which I needed to explore to see whether I could increase my ability to offer my paintings to a wider audience… I found that all web design is not created equal.  While researching the viability of this medium as a web design artist, I looked at many art & artist websites & to my surprise;  I realized that there was a vast difference in the way they looked & functioned.  Some looked great, but lacked the necessary functionality to enable the viewer to navigate through the site.  Others lacked visual interest or content,  & some had absolutely no way to get from page to page.  They were simply unable to complete any transactions in order to be able to purchase their products… due to the fact that their 'shopping cart' did not work at all.
Once I determined that I wanted to pursue obtaining a website as a web design artist,  I decided to look at the many options that are offered online.  There are sites that allow you to create your own website, using their set-up tools & 'web-hosting' services. The costs vary, from the most basic; which are often free, to the more sophisticated & functional.  These so-called  'Premium' sites that are offered can end up being very costly, both initially;  as well as for the monthly fee they charge to have your website 'hosted',  (i.e. they offer space on their server for your website & for internet users to access it).  The cost may be justified if  they websites  they are 'hosting' get the necessary visibility .
Web design services are offered by both web-designers & website-developers.  Web designers can basically be anyone who says they can design & make your website visually appealing & functional.  Although they may have the ability to create a website that has a lot of visual appeal, and a degree of functionality;  many designers actually utilize the services of a Website Developer; since they do not always have the experience in 'writing' & interpreting the complex language used in the programs that internet servers use to 'read' the information contained in the design.  The average user does not ever see or know about the programming that exists in the web-server software that creates the dynamic pages that search engines read & interpret to use to make your website visible in search results.  In other words, if your website does not appear in the search results of Google, Yahoo or Bing…then no one can find it.

Another consideration, is whether a web-designer has the expertise to maximize your standings in the search results; by making sure that your site shows up on the 1st page of results.  What I found while I was researching web-design options, was that a web-developer offers far more options & will optimize every part of your website.  They not only have the knowledge of what elements to enhance, for ways people find your website… by creating the most up-to-date functionality for search engines to use; but they also have the ability to help you to design a site that you & your viewers will find visually interesting.  They possess the most updated web-development tools available, since they are also the ones writing the software for many of the programs that you can download or buy.
Another benefit to using a  web-developer, is that many offer personal contact with their clients, either by email or talking with them directly by phone.  I am fortunate to have found a Web-Development company with developers that I work closely with, who can provide my clients with the best results; for realizing their vision of what they want their website to become.