Custom Web Development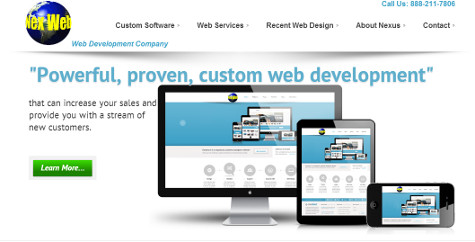 Click On Image To View
Nexus Web Development has been a major force in implementing web development software, since the internet began. They set the standard for quality, innovative, & reliable software design in the early 80's when websites were 1st introduced.  Nexus Software Systems Custom Web Development can enable your business to compete on the Internet… with successful solutions & professional methods that work to make your business succeed. If your website requires custom web development, web design, or Internet marketing to make your business grow, we think they would be able to make you very happy.
"The best web designers and developers, hands down" – Matt Cuts
ARTISTkarin Web Design works directly with the skilled developers at Nexus Web Development to make sure that your website is

optimized for search engines, has the most up-to-date functionality, & the latest features.  They offer the highest quality and standards of service, as well as technical expertise & reliable support you can count on.  Known & highly-respected for their vast knowledge of web applications such as;  XML, Cold Fusion, Kentico, Microsoft C#, ASP.net & PHP; as well for as creating custom applications for individuals to larger corporations.
 To Learn More…Click on the NexWeb Globe